To celebrate International Women's Day, we chatted to our female founders who featured in the March Oxonbox about how and why they set up their business, what a typical day looks like, and the lessons they've learnt along the way!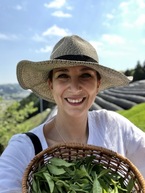 Valerie, Founder of Team Tea
I'm Valerie, the founder of Team Tea. Team Tea is a small Oxfordshire-based business specialising in loose-leaf tea. Believing in doing things 'right'; we are driven by our core values of ethical sourcing, sustainability, quality and taste. From exquisite Single-Origin teas to classic blends we share the story behind the teas and brewing notes to help you discover new favourites and banish boring brews.
How and why did you decide to start your business?
I have always been a tea lover. I love the ritual of making tea, the moment of pause, the chance to reset and I love the connection with distant lands. Too often tea is commoditised and it is easy to forget about where and how it was grown. We forget about the pioneers who planted tea bushes in often inhospitable terrain, we forget about the growers tending to the tea plants, we forget about the pickers skilfully choosing only the best leaves and we can overlook the expertise that goes into crafting those fresh leaves into the amazing drink we love. After training as a tea sommelier at the UK Tea Academy, I was inspired to start Team Tea in early 2018 to share those stories in the hope of encouraging people to connect with the tea they drink, to discover new teas and regions and to showcase the immense diversity that this single plant has to offer. 
Can you describe what your typical day looks like?
My typical day involves a lot of tea! My morning starts with a strong mug of Kolkata Chai with a drop of Oatly Barista whilst I'm getting ready. I then have a second mug with a big bowl of porridge as I check emails and plan for the day ahead, working out which teas need packing and checking the orders to be dispatched. I then take the dog for a walk. I'm not a morning person, so I find the fresh air really helps me to wake up! It's also been a great way to discover the new village as we've only recently moved. After a walk I make a cup of tea, often an oolong such as Tie Guan Yin that I can re-brew through the day, but it changes a lot with the weather and my mood, I went through a bit of a Keemun phase last week and I often drink the 'shortlist' teas that I am thinking of adding to the collection. I usually spend the rest of the morning packing tea into tins and refills. After lunch I get the orders boxed up and dropped off at the post office and then the second half of the afternoon is spent doing 'computer-work' and admin, which can be anything from tweaking the website, taking pics, designing labels for new teas, etc. It is one of the things I love about running my own business is that each day is so varied and I've learnt not to plan out every minute of every day as I need a couple of hours in every day to react to the unexpected! 
What's your favourite and least favourite part of running your own business?
Introducing teas to customers has to be my favourite part of running my own business, and it is one of the reasons why I love attending farmer's markets and foodie events. I love watching people's reaction when they try a new tea and how excited people get when they enjoy a taste. Covid restrictions have made this really hard, as keeping everyone safe has to take priority, but I am really looking forward to a time again when we can be freer in our interactions and I can once again brew teas for people to sample. I try not to dwell on the least favourite parts too much(!), although the early starts to load the car for a market would definitely be high on the list! On a serious note, because I work alone, it would probably be the pressure of knowing that if I don't do something there is no one else, so it won't get done and at times that can feel a bit overwhelming.
What's your biggest piece of advice for other women hoping to start their own business?
Running your own business is hugely rewarding, there is nothing like the feeling you get when a customer compliments the product that you have created, but it can also feel lonely without co-workers or a traditional 'work family' around you. So, my biggest piece of advice would be to think about your support structure and be open and honest with them. This might be freelancers that have expertise in areas you don't, or other small business owners that you can bounce ideas off to trusted friends that can read over something for you and give you honest advice. And best of all people who you can call to share a pot of tea and help you pack orders or label products when you get swamped! 
Libbie, Founder of Libbie Cait Designs
Hello my name is Libbie and I'm the girl behind Libbie Cait Designs. I'm a graphic designer born in Australia, based in west Oxfordshire with the  love for colour, pattern and music. I create colourful deigns for  stationary and giftwares  which are heavily influenced by loveable lyrics. I adore a good tune, but hey, who doesn't?? 
A little more about me, I trained as a graphic designer and illustrator at DeMontford Uni many moons ago. I've worked in printing and more recently in photography as a photo editor/ marketing & studio assistant. Since graduating I've always done a little freelancing design work and created things on the side. But it wasn't until 2019 that I really decided to startup Libbie Cait Designs. 
How and why did you decide to start your business?
My business really kicked off when I found out that work was going to be fairly quiet for a few months, I thought, what better time to focus on getting myself going while I had the time and opportunity. I have had an Etsy shop for years but had never had the time to put my all into it and give it a proper go, so that was really the starting point for me. Of course being brought up by a supportive family and having a mother who is a lecturer in business also had a big part to play in pushing me to start up my own business. But really I desperately wanted to design and create things that I was passionate about and I could say were my own creations. I've been fortunate to have traveling quite a bit and I felt like I had journals and photos full of inspiring things I had collected and wanted to use all of this, bring colour and music into what I do, not to mention, creating something that would bring smiles and happiness to people even if just for a moment or two and so…. Libbie Cait Designs began.
Can you describe what your typical day looks like?
I must admit I don't really have a typical day. I'd love to say I'm an earlier riser and I can go for a 3 mile run, bake a cake and clean the house, all before 8.30am, but alas I'm not that girl . I'm definitely a night owl. Generally I do like to start the day with a relatively tidy environment so a few bits of house work is a norm, and then cracking on with any orders or emails that need to be sorted out, I'll often zip over to my trusty village post office, around the corner, to get things posted and then attempt to muddle through my ever growing "TO DO"  list which can be anything from ordering supplies, design work, taking photos of new stock, doing some social media stuff, research etc. Then mid to late afternoon I attempt to go out for a walk ( I will admit this doesn't always happen daily especially if its super cold, or even worse, if its raining) followed by the daily question of "What are we having for dinner?". Then after dinner I will normally go back to my laptop and do some more work whilst vegging on the sofa with a thrilling Netflix series on in the background. Honestly I find from 7pm till the wee hours of the morning the best time for me especially for designing. I feel more creative, more inspired and definitely more focused. Call me Nocturnal Libbie!!! This would be a typical slow day when my other commitments including, dog sitting/ boarding and other work commitments are at a low ebb. 
What's your favourite and least favourite part of running your own business?
My favourite part of running my own business?? Well I Love the process of the designing which is always fun, then the printing, the photographing, the marketing, the packaging up and posting… I find the whole process so exciting and each step there is opportunity to put your own personal touch and sparkle on it. But really in the last 12 months the thing I have absolutely loved the most, Is being part of a fantastic creative community. The support, the encouragement and kindness shown has been so brilliant and Its all been virtual too, which is crazy!!!  I've met some AMAZING small businesses owners both far and near, who really have helped me and I honestly feel like I can call them friends. I even had the opportunity to collaborate with a great group of girls on a project last year, "AFEMARTNATION" which was all about supporting female creatives and sharing some positivity vibes which was wonderful to be involved with.
The part I dislike about running my own business?…Well I dislike doing the financial side of things, I'm not great with numbers, so that's definitely something I don't like doing, but also I'm not a fan of being in front of the camera. I'm more than happy and very used to being behind it. But sometimes virtual markets and other things really require the business to have a face, my face, so you do see me every so often, but I have to work myself up to it. Stupid I know. 
What's your biggest piece of advice for other women hoping to start their own business?
Advice I would give to a women hoping to start their own business would be "Just do it", Take the plunge, if you're passionate about it and its something you really want to do then nothing should hold you back. All of us continue to question our abilities and whether we are good enough, but don't let that fear hold you back. Don't compare your life to others. There's no comparison between the sun and the moon. They shine when it's their time. So start the journey and enjoy the ride. And remember to support those small businesses around you, because really we're all in the same boat.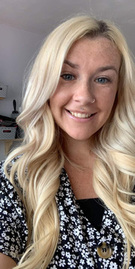 Chelsea, Founder of Fudging Hell
Hey I'm Chelsea, the founder of Fudging Hell LTD!
How and why did you decide to start your business?
I started my business during the first lockdown in April 2020, after being forced to close my hairdressing business and doing lots of home baking etc with the children. I ended up making some fudge and giving it out to friends and family who encouraged me to sell it and then Fudging Hell was born!
Can you describe what your typical day looks like?
A typical day for me is getting the children up and out to nursery in the morning checking stock, catching up on emails & messages, then I'm usually in the kitchen for the rest of the day.
What's your favourite and least favourite part of running your own business?
My favourite part of running the business has been watching it grow so much more than I could have ever imagined in such a short space of time. My least favourite part would be that there just isn't enough hours in the day, some nights I can be up anywhere between 1-3am and then up again from 7am with my children.. And that even when I restock as much as I possibly can there are always people missing out because items sell out too quickly! (Hopefully I can begin expanding the business soon).
What's your biggest piece of advice for other women hoping to start their own business?
My biggest piece of advice for other women starting their own business would be to persevere, work hard but enjoy it and the pleasure it brings to others. Don't let any negative feedback bring you down, learn from it and evolve from it.